1. Hưởng ứng ngày "Thứ 7 gọn gàng" trên công trường.
Một đôi giầy tốt sẽ đưa ta đến được nhiều nơi, một môi trường làm việc tốt sẽ tạo dựng tinh thần làm việc hứng khởi, tràn đầy năng lượng.
Vào mỗi ngày thứ 7 hàng tuần - các cán bộ công nhân viên của Seico hào hứng hưởng ứng phong trào "Ngày thứ 7 gọn gàng" từ trong văn phòng ra đến ngoài công trường.
Tại các văn phòng di động được lắp đặt ngay tại công trình và trên công trường làm việc, các cán bộ- công nhân viên luôn ý thức dành thời gian dọn dẹp sạch sẽ, ngăn nắp. Đối với Seico, sự tâm huyết và tận tâm với công việc không chỉ thể hiện trong tinh thần liên tục nâng cao chuyên môn nghiệp vụ mà còn thể hiện qua ý thức bảo vệ môi trường công tác. Điều đó giúp mọi người làm việc hiệu quả hơn, năng suất hơn, trong môi trường xanh - sạch - đẹp, đảm bảo an toàn lao động.
2. SAFETY FIRST
Trước và trong quá trình thi công công trình, Seico SBC luôn thực hiện nghiêm túc các quy trình huấn luyện nhằm đảm bảo an toàn tuyệt đối về tính mạng và sức khỏe cho công nhân.
Đối với Seico SBC, ngoài việc đầu tư các trang thiết bị máy móc hiện đại, đảm bảo tiêu chuẩn sản xuất thì việc tổ chức các buổi đào tạo an toàn lao động bài bản dành cho công nhân thi công là trọng tâm hàng đầu. Chúng tôi sẽ luôn đồng hành và đảm bảo cung cấp tới quý bạn hàng một dịch vụ xây dựng chuyên nghiệp, chất lượng và an toàn.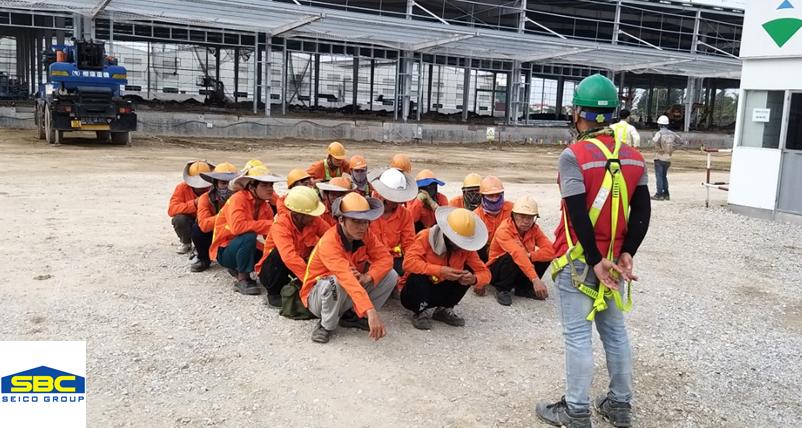 Instead of spending considerable time installing and dismantling formwork and scaffolding systems when building reinforced concrete floors. Now, we can completely use fixed speedy steel frame decks instead. Let's find out more with Seico:
Speedy deck is a combination of shaped steel beam frame and corrugated iron bottom plate. It ensure aesthetics, without the need to plaster ceiling.
Using speedy deck significantly saves the construction time because the installation of corrugated floor plate is much faster than that of formwork assembly (formwork panels are very small and short, requiring many studs to link the formwork together). Since the speedy deck plate is pre-welded with steel, it saves time for knitting the lower layer of the deck.
It is possible to proceed with pouring multi-level concrete floors at the same time because there is no need to use support columns (for formworks, we have to wait for the lower floors to be hardened concrete to continue installing the pillars for the next floor).
With the above points, you can safely use the speedy deck without worrying about extending construction time, thereby saving huge construction costs. But to reach the best results, make sure you hire the most experienced construction team for your project.
#Seico is proud to be the supplier and constructor of speedy deck plate with market leading quality. We are always happy to advise all queries.
Have you ever heard about the famous hundreds years old steel bridges that bring in significant value to world's transportation, trade or the "Water Bridge" full of charm?
The construction process of these steel bridges requires meticulous and high technical accuracy, as well as high-grade construction materials that ensure long-term usage.
Click on each image in the article to learn more
1. Magdeburg Bridge, Germany
Magdeburg water bridge, 917m long, is located on the Elbe river in Germany. The Magdeburg Bridge connects the Elbe-Havel and Mittellandkanal canals, allowing goods to travel between Berlin and the ports along the Rhine without having to take an additional 7.5 miles of detour.
It took 6 years, costing 733 million USD equivalent to 1,466 billion VND, using 68,000m of concrete block and 24,000 tons of steel structure to build this bridge.
The Magdeburg Bridge in Germany connecting the Elbe Havel and Mittelland canals was inaugurated in 2003 after 6 years of construction.
2.
Sydney Harbor Bridge, Australia
Sydney Harbor is one of Australia's most famous bridges and can take many beautiful pictures from different angles. This is the widest (not the largest) steel arch bridge in the world with a height of 134m above Sydney Harbor.
It took 8 years to complete the construction and the bridge was inaugurated in March 1932. Because steel can expand to hot and cold temperatures, this bridge can be raised or lowered about 18 cm. This is an attractive tourist destination of Australia.
3. Brooklyn Bridge, New York, USA
Brooklyn is the oldest suspension bridge of the United States, with a total length of 1,825 m, is an important landmark and symbol of New York City, 127 years from the time of its completion, until now it still plays a role. as originally, connecting Manhattan and Brooklyn. Brooklyn was also the first bridge in the world to use steel as a suspension structure and was the longest suspension bridge in the world until 1903.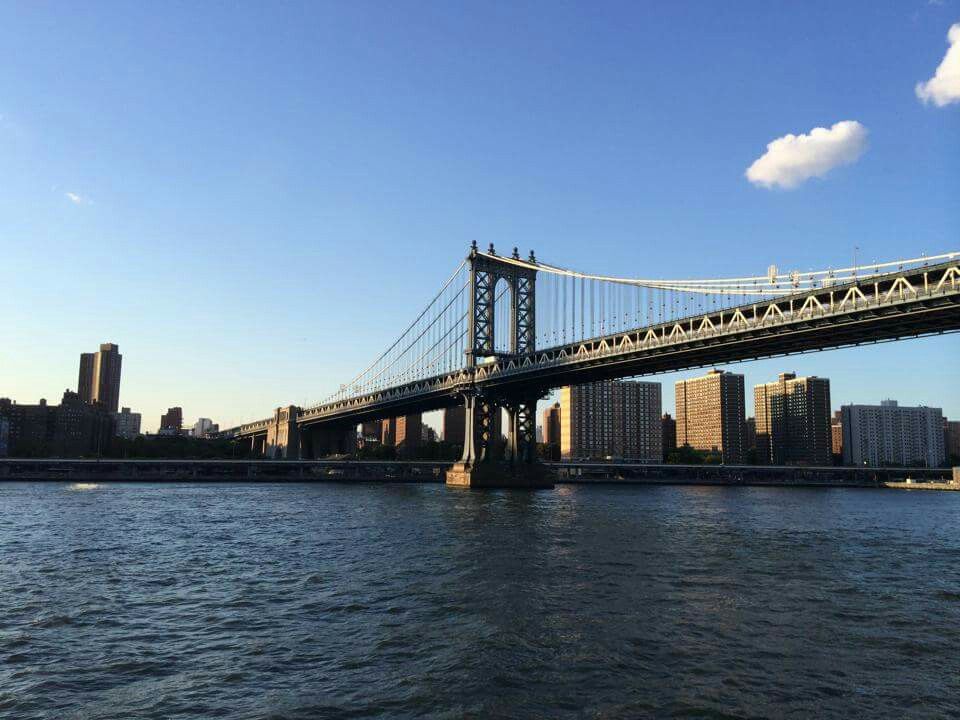 4. Tyne Bridge, Newcastle famous steel bridge UK
Tyne Bridge is the bridge that connects Newcastle and Gateshead. The bridge is one of the famous symbols of the city of Newcastle, was completed in 1928 by King Geroge V and is still in use today. The bridge has a height of 59m, ranks 10th among the architectural works of the city.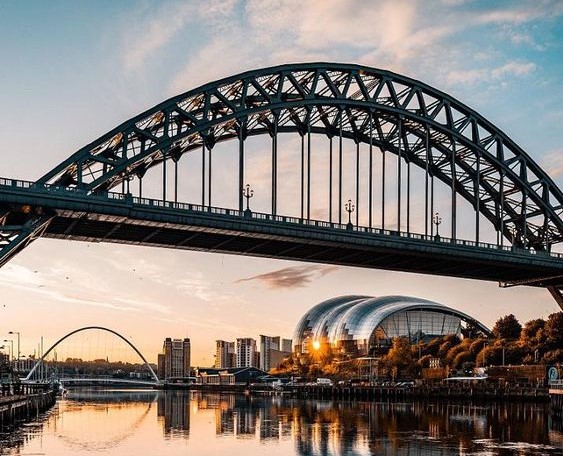 The bridge was built with 7,112 tons of steel, while the dome weighs 3,556 tons. The Tyne Bridge was designed by three architects Mott, Hay and Andrerson. Although the bridge was repainted in 2000, green is the true color of the bridge when it was first built.
5. Tatara Bridge
Tatara is a famous steel bridge with the most terrible scale in Japan. After it was completed in April 1999, it is the longest suspension bridge in the world. With the height of the bridge spanning up to 890m, the bridge connects the two banks of the islands of Ikuchi and Oumishima. Steel box girder is the main material to build this suspension bridge. The bridge has a length of 1,480m, it contains two lanes for bicycles, motorcycles and pedestrians.