PRE-ENGINEERED STEEL STRUCTURE - OPTIMAL SOLUTION FOR YOUR BUILDINGS/PROJECTS
Iron and steel are considered to be more prominent than other traditional materials such as wood, stone, or brick,... Especially, their properties like hardness, elasticity and tensile strength are easily controlled, leading to steel structures being more and more popular over the world.
1. What is Steel structure?
Steel structure is a load-bearing structure that is constructed from steel such as steel columns and beams. All of the steel structures are synchronously manufactured at the factory and then delivered to the construction site with special shape to complete a project in a short time.
Depending on each type of project, space, weight, the structural steel design are made in accordance with project's applicable specifications.
Currently, Steel fabrication is one of the most optimal solutions for many industrial and civil projects, for example, factories, warehouses, shopping centers, offices, supermarkets, stations, car parks,etc…
2. Pre-engineered steel frame construction
Steel frame construction includes: superstructure, substructure, envelope structure and prefabricated building.
Superstructure:
Load-bearing foundation;
Steel frame including columns, rafters, trusses, beams;
Roof structure, running girders, crane bridge...;
Substructure:
Purlins, braces, partitions, frame support partitions, stairs, roof purlins, wall purlins, working floor systems,...
Envelope structure and prefabricated building:
The envelope structure and prefabricated building make the building aesthetic by corrugated iron, cemboard floor coverings, steel plate...)
3. Steel frame construction
To be more specific, let's take a look at the model of steel frame construction through the following illustration: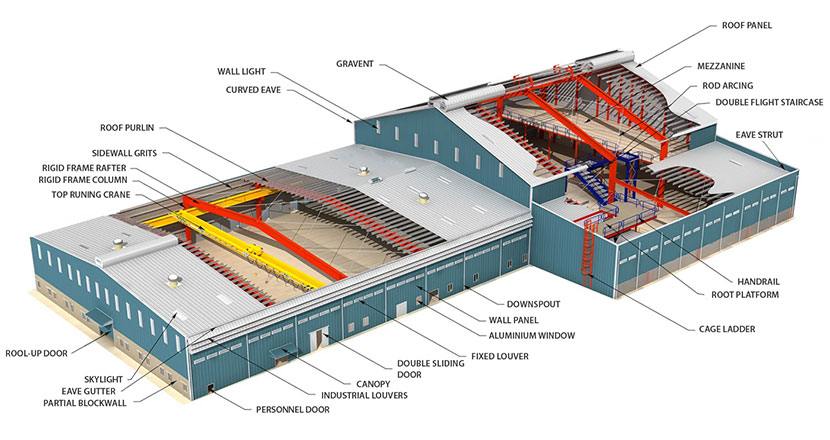 4. The advantages of constructing pre-engineered steel buildings
Cost savings: Shortening time of construction as well as using material manufactured in the factory help to save construction costs and limit accrued expenses.
Durability: Steel structures ensure all of the factors about hardness, safety as well as heat resistance, thermal resistance and soundproof for the buildings.
Fast erection: Steel fabrication is completely fabricated in the factory and then delivered to construction sites for erection.)
Flexibility: During use, pre-engineered steel buildings are also easy to remove and erect in other places, or upgrade, expand.)
Energy efficiency: This is a "green" solution for the environment by reducing CO2, saving energy and recycling efficiently.)
5. Reasons why SEICO GROUP is the best choice?
SEICO's pre-engineered steel buildings are directly manufactured at SEICO's three factories in Hai Duong province, and will be installed in accordance with the pre-determined technical drawings and specifications of the project.
At SEICO, to achieve a high quality of the pre-engineered steel frame, we coordinate with customers to closely monitor every step in the stages of designing, processing accessories and erection at the site.
The production process from components to a completed pre-engineered steel building project is implemented by SEICO in three main phases: Design steel structures, Steel fabrication and Assembly of works. The stages have always been close cooperation with the inspection and quality management according to international standards to control the best output quality.
All steel structures are synchronously manufactured at the factory and then delivered to the construction site, which shortens the time to complete a project, saves time for investors. Hence, customers can accelerate the process of exploitation when using the company's pre-engineered steel buildings for commercial and industrial projects.
6.Some projects of SEICO GROUP
To get a quality steel frame construction, at SEICO, we coordinate with customers to strictly control every step in the structural steel design, steel fabrication and erection at site.
Dorco Ha Nam Factory Phase 2
What are the advantages of pre-engineered building?
Cost saving

Stability

Quick installation and erection

Flexibility

Energy usage efficiency